Birdwatching in the Ebro Delta
Birds all year round
The Delta is a year-round birding spectacle, but the type and number of birds vary according to the season.
Summer and late spring is the best time, when the different species have bred and the Delta is full of life. In the channels and the ditches it is not difficult to see whole families of ducks "learning to swim".
In autumn, when the great migrations take place, the Delta becomes an essential stopover and place of passage for a large number of birds. The show is guaranteed.
Winter is the season for water birds, a unique opportunity to enjoy the sight of herons, coots and ducks.
Ornithological route from Sant Jaume
From Sant Jaume d'Enveja we will go bird watching on the island of Buda and in the Gola de Migjorn, where there is an observation tower that offers unbeatable views of the island of Buda, with its rice fields, salt marshes, ponds and lagoons, as well as the reed beds and the marshy area of La Alfacada.
This area is one of the best in the entire Delta to see a great diversity of birds in a short time.
The beach is also a magnificent setting where we can observe sea birds. On the way, large expanses of rice fields give us the view of hundreds of birds looking for food or simply sunbathing.
The route by the south of the Ebro continues by the lagoon of the Encanyissada, an ornithological paradise, and links with the lagoon of the Tancada to arrive finally at the beach of the Trabucador and the salt mines, where is the most numerous colony of flamingos.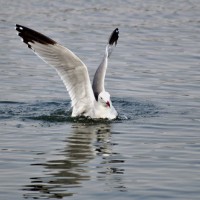 The world's largest colony of Audouin's gull lives in the Delta. An endemic species of the Mediterranean.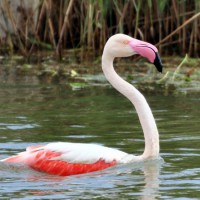 More than 350 of Europe's 600 or so species have been observed.
The most numerous group of birds in the Delta is that of ducks, 51%, especially the mallard and teals.