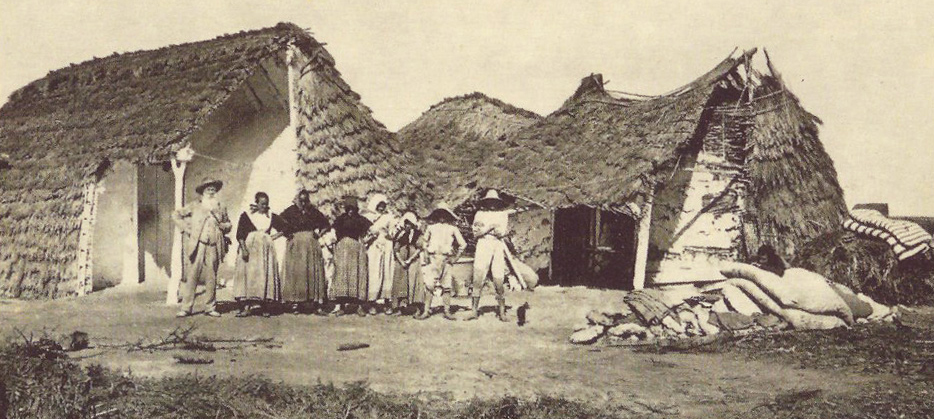 Barraques Interpretation Centre
This small museum displays an exhibition on the life, work and housing of the first settlers of the Delta. The huts are typical constructions made with the elements that nature offered them: canes, mud and "borró". The Interpretation Centre of the Barraques is inside the Sant Jaume nucleus. You will be able to see models of old huts, photographs, know how they were made and what kind of uses they had and get closer to a life system totally adapted to the environment.
In the Interpretation Centre of Sant Jaume you will find a hut built in the traditional way where you will be able to relive the history and know first hand how the huts, the furniture, the utensils and the customs were.
The values of the Delta
The CI of the Delta huts is an initiative of the Sant Jaume d'Enveja Town Council, with the collaboration of the Museum of the Terres de l'Ebre, of which it is a monographic section, and the Natural Park of the Ebro Delta. The main objective is to value, preserve and spread the historical and ethnological heritage of Sant Jaume (and by extension of the Delta and Terres de l'Ebre), giving a new perspective to the identity aspects of the population related to the human colonization of the Ebro Delta.
A little bit of history
The huts were simple, resistant and functional constructions, which kept a great environmental and landscape balance with the natural environment of the Delta because it was where the basic materials to build them were obtained: cane, mud, wood and "borró". They have been documented since the Middle Ages and had their greatest expansion between the end of the 19th century and the beginning of the 20th, coinciding with the extension of rice cultivation. In the 1960s, the better living conditions of the people, the new means of transport (car, van and motorbike took place of legs, cart and bicycle) and the new building materials led to their abandonment.
During the 1980s the traditional huts became one of the symbols of the Delta and in the 1990s they were recovered for new uses: information centre, showroom, second residence, restaurant or rural accommodation. David Monllau, master "barraquer", who had spent his childhood and youth living in one of these houses, was the one who promoted their recovery.
Nowadays there are more than a hundred of them scattered around the delta, all oh them built in the last thirty years.